Getting Started: Explore Any City Through Local Drawings
What if you could walk through the city and see through the eyes of other artists?
Urban Sketch is a platform that allows artists to discover each other by sharing illustrations of their environment. We also encourage anyone to explore the world through the creative lenses of our community! You can see the same park as an inky sketch of glittering rain through a coffee shop window, or a delicate watercolor of a little girl sliding into a pile of autumn leaves. There are so many beautiful perspectives from the creative eyes that you cross paths with every day, and we want you to see it!

To make out vision come true, the more artists and users we bring on board, the better! Together we can fill out a beautiful map of our cities and neighbourhoods where an artist saw something worth capturing. Download the app today here urbansketch.io
How Urban Sketch Benefits Different Stages of Creativity
In the hustle and bustle of everyday life, it can be easy to overlook many opportunities for inspiration, whether it's intriguing corners of your neighbourhood to fellow artists you've passed by and never knew. We want to build a community that nurtures a creative appreciation for the city and local artists.
With Urban Sketch, it's easy to get inspiration from what local artists and hobbyists see and get to know them through their profiles.

Here are ways you as an artist or appreciator can benefit in building this community and connecting with others:
Many talented people never end up pursuing the arts, but they'll always see the world in a creative way. If that's you, it'll always be a part of you and neglecting that side can manifest in discontent, boredom and other unhealthy habits. The pockets of time we have in between travelling, waiting for a friend to arrive or taking a break from work is a great place to begin fostering your artistic potential. Make creativity a bigger part of your life!

1. Foster creative habits.
If you only have time to draw on the subway, show us your view of your favourite station. It doesn't need to be the Sistine Chapel, just something creative you can do regularly. Treat the work you do now as a part of your creative progress that will lead to growing your skills. Don't force yourself to draw all the time if it's not something you can sustain, your creative spirit is a marathon not a sprint. Just start! Sign up and make one tiny little post.

2. Connect with like-minded people.
It's much easier to explore your creative side when you have a community of creators you stay in touch with. This platform is a great way to make casual creative friends. Post your work and comment on others' works so fellow artists can discover you. Support your local creative community, and they'll support you right back. When you find others who frequent the same locations, you can connect offline as well!
You're already drawing whenever you can, and you love it! Why not explore the opportunities that come when you share them with more than just your social circle? You never know where your art can take you, from discovering new places to new styles. Urban Sketch is for everyone, and who knows, someone who comes across your work may tell you if they think you're the right fit for a job opportunity!

1. Explore your style.
It's easy to stick to what you know, but that can keep you from growing as an artist. Seeing the variety of ways artists can capture the same street is sure to be an inspiration! You can meet up with fellow artists and exchange notes, maybe even collaborate. Sometimes, a bit of creative constraint is needed to experiment, and as our community grows we'll provide creative challenges like drawing the same place three days in a row from a different angle.

2. Build your audience.
You can be happy with your day job and still want to explore your opportunities. The more you engage with the creative community around you, the more they'll see you work. Having more followers will help you get noticed and give you the street cred you need should you reach out for freelance illustration opportunities. Draw the city in your own unique style, build your brand and share it with the world!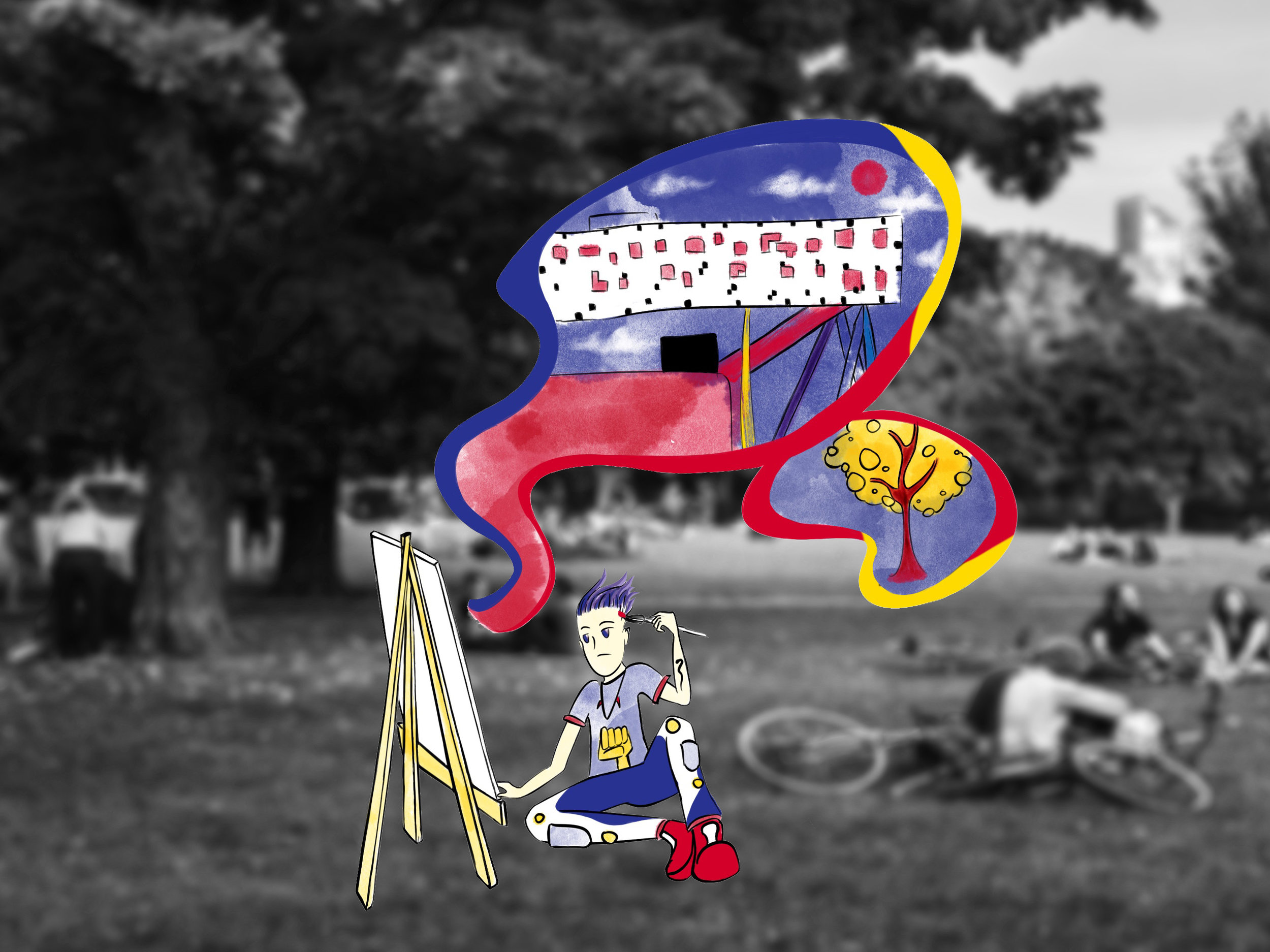 The years you're in school will go by so fast, you'll look back and wonder why you didn't treasure it more. While it's important to be ambitious and work hard, make sure you maintain a positive relationship with your creativity. Art and design school critiques can be stressful, with professors pushing you to redo your work over and over so often you constantly doubt yourself. Make time to do relaxing drawings, or you can end up burning out and always criticizing yourself when creating.

1. Enjoy your time.
Being in the same space for a long time can be stifling, especially after long work sessions. Take the time to stretch your legs, and find different spots around the city where you can study and do your work. Remember that not every drawing needs to have a huge concept behind it, and find time to draw just because drawing is awesome! Draw the places you're making memories in and guarantee you'll appreciate it looking back.

2. Find a mentor.
How many times have you walked past a professional artist and never known their work? As our platform grows and more illustrators in the field share their work, that is your opportunity to connect with people doing your dream job. You'll find many creative people are open to having coffee chats if you ask nicely and you can learn more about how to get ahead. There are certain things school doesn't teach you and having connections in the industry is important.
People might not know it just from looking at you, but you're a professional creator. Working in a creative industry, you may always be drawing but rarely do it for fun. That means no client brief, no goal in mind, just pure creative. What better way to do this than to take a leisurely walk through the city and draw whatever you find interesting? Meeting artists who aren't in the field can help freshen your mind and see things in a new light. Your constructive criticisms and comments are valuable to the community, so share your experiences.

1. Feel like a kid again.
Wander without expectations and draw whatever catches your eye! Maybe it's the man in the ridiculous hat or the eerie alleyway that you stumbled upon. You can use our app to explore what others have done, or you can go where no Urban Sketch illustrator has gone before and capture new inspirations.

2. Mentor and be mentored.
If you've ever had a mentor or someone who helped you along the way, it's time to pay it forward. It feels good to help someone and your comments add a lot of value to our community. You can also connect with peers and gain insights about the craft you never considered.
Whether you think of yourself as an artist or not (and we believe everyone has an artistic side), our map is a great way to explore the city in a different way and spend time with friends. You can rediscover your favourite street from a different perspective, or stumble on a hidden gem of a market you never would have chanced upon. Here are two ways to help us make this experience amazing!

1. Show us beautiful places!
Getting to peer through creative eyes can deepen your appreciation for a beloved shop. If you have a favourite place in the city, you can comment and give suggestions to see it in a different light. We want our users to share incredible places with each other and discover more. Life is full of routines...what if you could find something beautiful on the way to work? See the places that artists are inspired by.

2. Support your creative friends and a creative city.
The more people we have sharing beauty, the better this experience will be! If you know someone who draws or can appreciate illustrated perspectives, invite them to join our community. The best thing you can do for your artist friends is to show love and support for their work!
Step-by-step and Tips to Get Started
If you've used Instagram and Google Maps already, you're already halfway there. Our platform is intuitive and easy to use. The app can be accessed here at urbansketch.io and is available for apple and android.
1. Sign up! Make an account through Facebook or with e-mail.
2. Explore our map, and show some appreciation for any artworks you like!
3. Now look up from the screen, walk around and find something to draw.
4. Post it.
5. Tell your friends! (Then see 2. and repeat)

Voila! You are a valued member of our community! Now go do it for real, we can't wait to share your work and experiences!

Here are some prompts for making art of the city:
1. Draw a noisy street and then a quiet one
2. Draw somewhere you have a beautiful memory of (tell us about it!)
3. Have a drawing date with a friend, and draw the same place together
4. Draw an art museum from the front and back
5. Draw a place where lovers go
6. Go to the most touristy place in the city and draw it
7. Draw somewhere you've always wanted to go
8. Draw a building with wall art on it (#artception)
9. Get off the bus stop you've never been to and draw it
10. Draw the nicest park in the city and the dirtiest alley
Fostering A Curious Community for your City
The Urban Sketch mission to get local artists, from doodlers to professionals to connect with one another and share their vision of their environment. If you have any ideas or suggestions on how to build upon our vision, we are open to it! Drop us a line.